We no longer offer Organo Gold Business Cards.
Below are the styles we were offering starting at 500 business cards (Thick 16pt Card-Stock) for $20: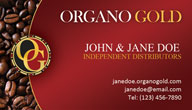 Corporate Design
Professional, sleek and to the point design. Our most popular design contains a tasteful hi-resolution photo of coffee beans on the left to project the company message.
Car Program Promo
White background to contrast black vehicle. Preferred design for distributors & representatives who promote the "Benz Club" when recruiting members.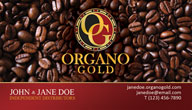 Cool Beans!
This eye-catching design will leave a memorable impression with any prospect. Gourmet Coffee Beans display the premium quality Organo Gold offers.
How to be successful in Organo Gold
Just like in any business, Organo Gold distributors need to know how to market themselves at a low cost. Cheap, but high-quality business cards is an essential tool to any company's bottom-line when it comes to marketing. We currently are offering a special price limited time offer for Organo Gold Premium Business cards.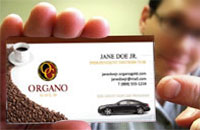 Organo Gold Business Cards are now available at Tight Designs. As all of our printing, these business cards are high-end premium quality prints.
Aren't sure if Business Cards will boost leads and convert into more sales?
If you're still a little iffy about the purchase, check out a couple of Organo Gold distributors who have invested in their business with affordable high-quality business cards by TightDesigns.com. Click on their business cards to view the designs or click on their profile to ask them about our high-end quality and professional service. You can also expand your reach by networking with people in your same business. We continuously give you more ways to succeed with Organo Gold.
Please add the domain @tightdesigns.com to your Address Book or Contacts to receive a sample of your business card.
---
Tight Designs is not associated with the world-wide MLM company, but we have so many Organo Gold independent distributors as clients that we decided to make this online Organo Gold Business Card wizard to streamline the process and lower costs, to turn the savings on to you.