At Tight Designs & Printing Company of Florida, we receive hundreds of questions per day in regards to budget pricing, graphic design services, quality of stock, etc. The majority of these questions are common and we've put together below the most frequently asked questions to help save time.
Don't see your question here? Ask us directly through our chat/email feature on the lower right corner of this page.
---
Can I split an order of prints into several different designs to receive the same price?
If you choose to split an order into smaller quantities the price will reflect that of individual orders. In order to get discounted deals you must order in bulk or stay updated with our daily discount deals here.
How do I make a change on my print order?
In most cases, orders are processed immediately for your convenience. If the job is plated, this means it is passed the point of changes for design, quantities or product features. Changes for shipping can be done if we are contacted before the items leave the facility.
Does the prices include design?
The price shown on each product is solely for printing. At times we might include the design process if it is something simple that can be accomplished in minutes. If you do not have your print-ready artwork and need us to design your artwork, contact us for a quote.
What does "print-ready artwork" mean?
Print-ready artwork is file of the design you wish to print. We accept JPG, JPEG, TIFF, PSD, PDF, and AI.
Low resolution files may be printed as is or will be placed on hold until we receive new files, slowing your turn-around.
THESE ARE 72 DPI LOW RES IMAGES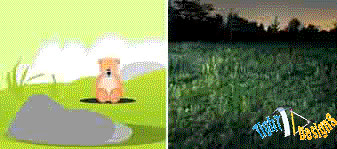 THESE ARE THE SAME IMAGES BUT AT 300 DPI

We only accept 300 dpi files and no less.
If you send us an RGB file, there is a chance that a color shift may occur and you may not be satisfied with your job.
THESE COLORS ARE IN RGB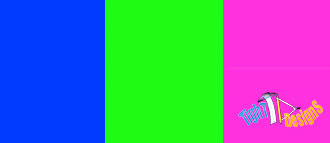 THESE ARE THE SAME COLORS BUT IN CMYK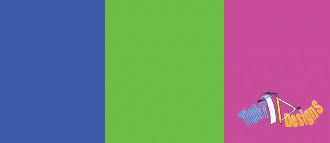 You should always start and finish your designs in CMYK color mode.
Bleed must extend past the cut-line and will be trimmed from the product during the final cutting phase. When the image is required to extend all the way to the edge, bleed is needed to preserve the finished look and the quality of the final product.
Please keep all text at least 0.125″ inside the cut-line.
– The bleed for Standard Products is 0.125″.
– The bleed for Booklets and Presentation Folders is 0.25″.
– For Grand4mat Products, please see the G4Mat FAQs for individual substrate guides.
We recommend using our templates at all times.

We can provide you with a template for the print-job you are interested in. Contact us and we will email you the template file.
Can I pick up my prints the same day?
When creating a Spot UV job, you must include a Spot UV template file along with the regular print file. The Spot UV template file is used to show where the UV coating needs to be applied.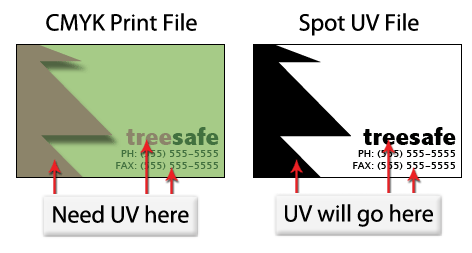 For better quality we recommend creating mask files in vector based programs such as Illustrator or CorelDRAW.
Please only use solid 100% K to indicate where you would like the UV. Do not use shadows, glows or grayscale images. White will indicate no UV.
Remember, if it's white, you can write!
Can I pick up my prints the same day?
At an additional fee, we offer rush service and same-day printing on business cards and flyers. In order to pick up your prints on the same day you must place your order and upload your print-ready artwork by 9AM the day you wish to pick it up.
Currently, we're experiencing issues with our same day printing service. This message will be changed as soon as the Same Day Printing Service is back online.